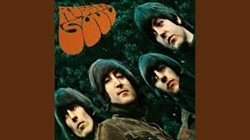 Welcome to the "Sheltering in Place with Classic Albums" series. Each week, I'll present a new album for your consideration—a means for passing these uncertain times in musical bliss. For some readers, hearing about the latest selection might offer a chance reacquaintance with an old friend. For others, the series might provide an unexpected avenue for making a new one.
For the inaugural selection in our series, we begin with "Rubber Soul," arguably the Beatles' maiden voyage into classic album-hood. No less than the Beach Boys' Brian Wilson described "Rubber Soul" as the greatest LP of all time. When he first heard it, Wilson recalled, "I couldn't deal with it. It blew my mind."
Released in December 1965, the Beatles' sixth studio album took its name from Paul McCartney's concept of "plastic soul." In his coinage, plastic soul referred to the band's penchant for transforming musical forms — often American rhythm and blues — into their own image, retaining their fundamental qualities in the process of making them their own. Perhaps even more dramatically, the record featured several tunes that upended prevailing 1960s thinking about gender norms at the time, making the album revolutionary in more ways than one.
Source: Kenneth Womack/salon.com