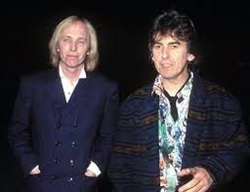 George Harrison had a dark sense of humor, but no one should view his comments to Tom Petty following Roy Orbison's death as such. As his wife Olivia explains, George always cut to the chase, and he never forgot to look at things positively.
George Harrison at The Beatles' Rock & Roll Hall of Fame induction in 1988.
In 1987, George invited Petty, Orbison, Jeff Lynne, and Bob Dylan to record a song called "Handle With Care." He wasn't going to skip a once-in-a-lifetime opportunity, having all four rock stars in one recording studio. Later in 1988, George asked the guys to record an album under The Traveling Wilburys.
Petty hardly slept the night they asked Orbison to join the supergroup. He was so excited that the veteran rocker agreed. In a video about the making of The Traveling Wilburys Vol. 1, Petty said, "Every time we'd start thinking about it, 'Wow, Roy Orbison's in the band!'"
Source: cheatsheet.com