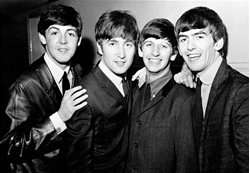 Looking back, it's easy to think of The Beatles as a sure thing. In 1963, the band featured three bona fide lead singers, two talented songwriters, and the swagger to electrify crowds. However, Paul McCartney didn't think it was enough to take America by storm.
"We mustn't go to America until we've got a No. 1 record," Paul recalled telling Brian Epstein, The Beatles' manager, at the time. Though the band would go on to rack up an unthinkable 20 chart-topping singles, the first one wasn't easy to come by.
During the interviews for Anthology, Paul described "From Me to You," a previous single, as a "flop" in America. He didn't want the band to arrive and end as an opening act for singers like Fabian (!), as the lesser British bands had to do during that era. He wanted to arrive on top.
When Epstein and the band saw the success of "I Want to Hold Your Hand" in the UK, they knew they had their "in." In December of '63, upon the single's release in America, it sold 750,000 copies in three days. Soon enough, the Fab Four would have its first No. 1 in the States.
Source: cheatsheet.com