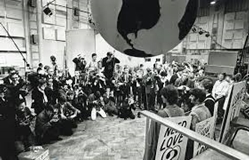 If you ever watch the Super Bowl halftime show, you know how much lip-snyching takes away from the performance. However, with hundreds of millions of people watching around the globe, some performers don't want to take the chance they'll mess up.
When The Beatles agreed to perform "All You Need Is Love" for the first global broadcast transmitted around the world, John Lennon seemed to realize that singing it live was the only way to go. Behind the scenes, the band's production team at Abbey Road thought it was a bad idea.
"Miming to a prerecorded track was the safest course of action," engineer Geoff Emerick wrote in Here, There and Everywhere. Emerick described Lennon's plan to sing live as "a foolhardy — though brave — decision." Producer George Martin agreed the Fab Four should tape everything.
Source: cheatsheet.com