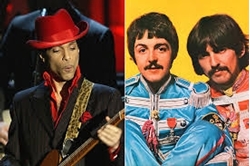 The Beatles and Prince are both iconic but they made very different music — or did they? Some believe Prince based his album Around the World in a Day on Sgt. Pepper's Lonely Hearts Club Band after listening to the Fab Four for the first time as an adult. Is this rumor true? Here's a look at what a member of the Revolution and Prince himself had to say.
The first Beatles song Prince ever heard was very strange
In an interview with Diffuser.fm, Bobby Z. of the Revolution discussed the time he played Sgt. Pepper on Prince's tour bus and the Purple one heard the Fab Four for the first time. Prince heard the song "Good Morning, Good Morning." The avant-garde song features animal sounds and snorts.
Source: americansongwriter.com