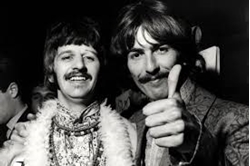 In early 1970, with The Beatles on the verge of breaking up, Ringo Starr paid a visit to Paul McCartney's house with a request from his three bandmates at Apple headquarters. Would Paul delay the release of his debut solo record until after the arrival of the Let It Be album and film?
In brief, Paul's reply to Ringo was, "No." But it didn't stop there. In addition to his flat rejection of Ringo's request, Paul threw Ringo off of his property and threatened to "finish" him. Needless to say, Ringo and Paul wouldn't be having tea and cutting records together anytime soon.
However, Ringo did maintain solid relationships with John Lennon and George Harrison. On John's heavyweight 1970 solo debut, you'll find Ringo in the drummer's seat. That same year, you found Ringo playing on tracks for George's triple-disc blockbuster, All Things Must Pass.
Source: cheatsheet.com