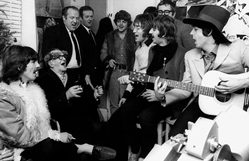 For many fans of The Beatles, the band's 1970 breakup couldn't really be the end. After each member released a solo album — several of which took shots at Paul McCartney — a reassuring calm reigned by the mid-'70s.
During that period, you'd hear John Lennon giving interviews in which he said nice things about Paul. For those familiar with the days of John and Ringo savaging their old bandmate on record, that seemed like major progress.
Meanwhile, no one ever seemed to have a feud with George Harrison. That meant the four elements that needed to be combined for a reunion had no serious problem with one another. That was more than anyone could say during the band's final years.
In fact, once John and Paul jammed together at a 1974 recording session, the groundswell necessary for a Beatles reunion had begun. Things actually got close during this period.
Source: cheatsheet.com