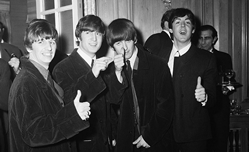 If you look into The Beatles' album sales, you find one unbeatable record after another. It all starts with cumulative sales. At 183 million units sold, no recording artist comes close to the Fab Four.
The band also dominated the Billboard charts unlike any other artist selling records in America. Over the years, the band posted 20 No. 1 hit singles on the Billboard Hot 100. Not even Elvis could match that total.
That brings us to the band's long-playing (LP) records on the Billboard 200. Once again, The Beatles hold the record for No. 1 albums (19), and no one is close. (Jay-Z has 13.) The figure becomes more amazing when you consider the group only stayed together for seven years.
Source: cheatsheet.com