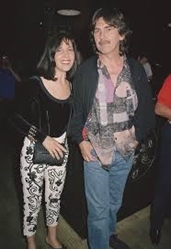 It will be 18 years at the end of this month since "quiet Beatle" George Harrison passed away of throat cancer in 2001. His music lives on with his timeless melodies on songs such as Something, Here Comes the Sun, and I Got My Mind Set On You.
After George and his first wife, Pattie Boyd, separated in 1974 and then divorced three years later, he met and married Olivia Arias in 1978.
Olivia was a secretary when she met George. Born in Los Angeles, Olivia Trinidad Arias saw the Beatles in concert two times, once at the Hollywood Bowl on August 29, 1965, and then a year later at Dodger Stadium on August 28, 1966.
In 1973, she started working at A&M Records, which by the following year won the rights to distribute George Harrison's Dark Horse solo records globally.
In the midst of the negotiation process, George and Olivia chatted by phone frequently. Eventually, the former Beatle wanted to know more about his phone friend and asked his friends to get more information about her for him.
Source: cheatsheet.com