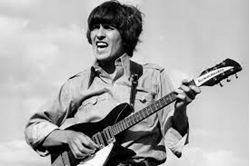 Everyone has a favorite Beatles album — even the band members themselves. For John Lennon, it was The White Album, a record that showcased some of his best guitar rock with the Fab Four. For Paul McCartney, Sgt. Pepper's Lonely Hearts Club Band was a high point.
Ringo and George Harrison picked other records. For Ringo, the medley on the second side of Abbey Road made that album his favorite. (John disliked the band's final record for the very same reason.)
But George's pick went back to a special record in the Beatles' discography: Rubber Soul (1965). With tracks like "In My Life," "Girl," and ""Norwegian Wood," the band showed remarkable growth from the prior year when they first landed in America.
On that record, you'll George playing sitar for the first time, a harpsichord-sounding solo by the band's producer, and other great sounds never heard on Beatles records before. George loved all of that about Rubber Soul.
Source: cheatsheet.com