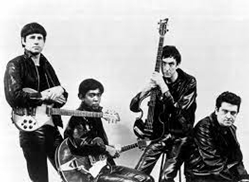 George Harrison said The Rutles "liberated" him from The Beatles' legacy. For most of his solo career, George had to deal with being tied to his famous former band. He grew sick of it fast.
However, the parody helped George come to terms with The Beatles.
In 1975, Eric Idle and Neil Innes created a sketch that followed a fictional band based on The Beatles called The Rutles. The sketch appeared on Idle's BBC television series Rutland Weekend Television later that year. Then, the fake band became real when they recorded Beatle-y songs for an album called The Rutland Weekend Songbook.
In 1976, Idle played clips of The Rutles on SNL. The producer of the late-night comedy show, Lorne Michaels, liked the sketch and agreed to produce The Rutles' movie, All You Need Is Cash, with Idle. The Rutles line-up included Ron Nasty (Innes), Dirk McQuickly (Idle), Stig O'Hara (Ricky Fataar), and Barry Wom (John Halsey).
Source: Hannah Wigandt/cheatsheet.com