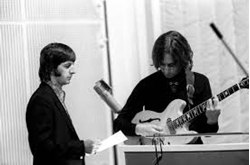 During the Beatles' epic run, it wasn't unusual for George Harrison or Ringo to sing a song written by John Lennon and/or Paul McCartney. Early on, you'll find George singing "Do You Want to Know a Secret," a song penned by John.
Later, you couldn't miss Ringo belting out "With a Little Help From My Friends" on Sgt. Pepper's Lonely Hearts Club Band or "Yellow Submarine" on the film soundtrack of the same name. (Ringo normally got at least one song to sing on each album.)
By the time they were recording The White Album (1968), George didn't need John or Paul to write music for him; he had more than enough songs of his own. Even Ringo wrote a song ("Don't Pass Me By") for that classic two-disc release.
However, Ringo got another song from John to sing on The White Album — the sweet "Good Night" that served as the closer. Some believed John would have sang it better on his own.
Source: cheatsheet.com