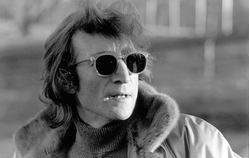 John Lennon's life took a number of wild turns in the 1970s. At the start of the decade, he was completing his escape from The Beatles, the world's most famous band. In late 1970, his triumphant debut solo album answered all questions people had about his powers as a songwriter on his own.
But a few years later, he had become estranged from Yoko Ono in what he called his "lost weekend" phase. Though he was making music and producing albums for others, he was abusing drugs and generally seemed to have lost his way.
That changed when he landed his first No. 1 single (with a hand from Elton John) and worked his way back to Yoko. The following year (1975), Yoko gave birth to Sean and John famously became a househusband to raise him. He kept that routine going through the end of the decade.
Source: cheatsheet.com