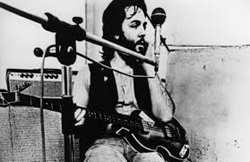 What made the 1968 White Album sessions so unpleasant for The Beatles? The list is long, but you can't answer the question without mentioning the arrival of Yoko Ono on the scene and the growing creative frustrations of George Harrison.
These were the sessions at which Harrison couldn't interest his bandmates in "While My Guitar Gently Weeps," after all. And Ringo Starr actually left the group for a spell that summer. When Paul McCartney later described it as "the tension album," he wasn't exaggerating.
But McCartney had an idea for getting the band playing together in a looser setting for the next album. It involved a more stripped-down approach — the four Beatles and their instruments — and at the end of filmed rehearsals they would play their first concert in three years.
Source: cheatsheet.com