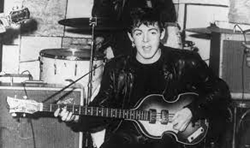 Paul McCartney has written hundreds, possibly thousands of songs in his immaculate career. However, not every song he's written has entered the studio. One of the first songs he ever wrote was never recorded as it was involved in one of The Beatles' failed auditions.
Paul McCartney wrote many of The Beatles' most iconic songs, either by himself or with John Lennon. However, not every song he wrote made the cut. A few examples include "I'll Be on My Way" and "A World Without Love," which ended up being a hit for Peter & Gordon. A few of McCartney's Beatles songs that didn't make the cut were resurrected by the singer in his solo career.
His first solo album, McCartney, included a few rejected Beatles songs, such as "Teddy Boy." In an interview for the book Wingspan: Paul McCartney's Band on the Run, he explained why he decided to include the track on his first solo album.
Source: Ross Tanenbaum/cheatsheet.com