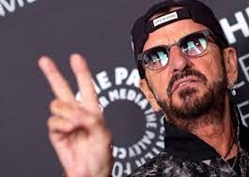 Ringo Starr and his bandmates have taken a break from rehearsing for their first show of the year to field reporters' questions in a Zoom call, doing all they can to crack each other up while interacting more like old friends than a member of the world's most famous rock band and his latest batch of hired guns.
Rehearsals have been going great as they get reacquainted with the staples of an All-Starr Band performance, from the drummer's own material to Edgar Winter singing "Free Ride" or Colin Hay dusting off Men at Work's "Who Can It Be Now?"
"Yesterday, we ran the whole show and I feel ready to rock," Starr says.
Toto guitarist Steve Lukather says he's been "having the time of my life in this band, always have."
Second drummer Gregg Bissonette says they've been "having the greatest time playing the greatest songs with the greatest — my drum hero, my dear pal. What a ball. What an honor."
Source: azcentral.com