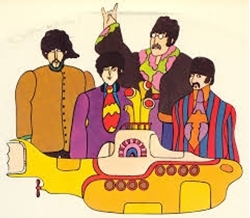 When The Beatles described how hectic their lives were from 1963-67, they weren't exaggerating. Over that time, the band released nine albums of original songs. On top of that, they owed the record company between two and four singles (separate from the records) each year.
Meanwhile, they mixed in two feature films, one poorly received TV movie, and countless concerts and appearances. Indeed, you might be running from fans and snapping at people, too, if you had that type of schedule.
Once the band quit touring for good, they had more time to spend in the studio to lay down whatever sort of tracks they liked. And they used as much of it as they could (over four months) to make their first album as purely studio musicians: Sgt. Pepper's Lonely Hearts Club Band.
Source: cheatsheet.com