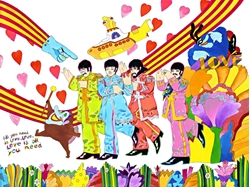 Ron Campbel was about 6 when he saw his first cartoon in a movie theater. He went home and started drawing.
And that was the beginning of the 78-year-old's art career.
Campbell kept drawing until his own pictures came alive on both television and in the movies. Some of those drawings even escalated into legendary status when The Beatles boarded their "Yellow Submarine."
That's some of his animation in The Beatles' 1968 feature film "Yellow Submarine." Those psychedelic images will be on exhibit this week in Lafayette and New Orleans.
Campbell is showing and selling his work at Gallery 912 in Lafayette on Tuesday and Wednesday, then at the Boyd Satellite Gallery in New Orleans from Friday through Sunday.
Even if you've never watched "Yellow Submarine," you've probably still seen Campbell's work in such classics as "Scooby Doo," "The Jetsons," "The Flintstones," "Yogi Bear," "Teenage Mutant Ninja Turtles" and "The Smurfs."
Source: ROBIN MILLER | romiller@theadvocate.com