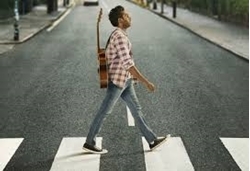 Whether it's "She Loves You," "Get Back" or "Yesterday," odds are that you've heard the distinct sound of the Liverpool-based group composed of John Lennon, Paul McCartney, George Harrison and Ringo Starr. Even if you haven't, modern music is a beneficiary of the history made over and over again by the Beatles, who many consider to be the greatest band ever.
As Dave Grohl, lead singer of the Foo Fighters, once eloquently said, "From one generation to the next, the Beatles will remain the most important rock band of all time."
Following the box office success of "Bohemian Rhapsody," it came as no surprise when a movie based off the works of two of the greatest songwriters of all time, Lennon and McCartney, was announced. The project, which dropped a trailer on Feb. 12, 2019, is titled "Yesterday." But before beginning, I must warn you: Limited spoilers lie ahead, especially if you haven't seen the trailer! If this is the case, you can watch it here.
Source: Ben Garcia, Hope International University