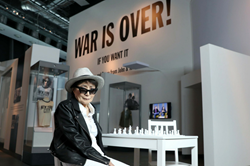 Yoko Ono has announced the impending release of a new album, Warzone, that finds her revisiting and re-imagining tracks she recorded from 1970 to 2009, with the addition of one cover song — a new take on her husband John Lennon's iconic "Imagine."
Warzone will be released Oct. 19. The 85-year-old Ono announced no plans to tour or otherwise promote the album.
The album's title track is a new version of the opening song from Ono's 1996 album, Rising. You can listen to it below.
Subscribe to WPDH-WPDA on
The inclusion of "Imagine" on Warzone comes at an appropriate time. Ono made headlines last year when the National Music Publishers Association awarded her a co-writing credit, more than 45 years later, on "Imagine," as part of the association's Centennial Song Award.
The NMPA made the decision after coming across an interview with Lennon in 1980, in which he said he took the concept and lyric for "Imagine" from Ono's book Grapefruit, and that credit for the song should thus be shared between him and his wife.
"Those days, I was a bit more selfish, a bit more macho, and I sort of omitted to mention her contribution," Lennon said in the interview.
Source: wpdh.com