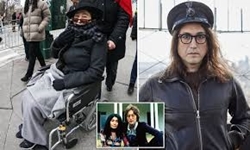 Yoko Ono appears to have stopped working and has handed many of her business interests over to her son Sean as she slows down at the age of 87.
The widow of Beatles legend John Lennon has been vocal for decades about global peace and used to personally attend exhibitions of her artworks.
But she has not been seen in public for more than a year and on October 5 we can reveal Sean Yoko Lennon was appointed a director at eight companies linked to Yoko and the Beatles, including Apple Corp.
He also joined the board at Lensolo, which deals with music rights of some of John's solo work.
On what would have been John's 80th birthday in October, Sean made a BBC documentary and an Apple Music show, but Yoko only tweeted a video where she appeared to be reading from a script.
A report in the New York Post in July suggested she needs a
wheelchair much of the time.
Source: Mark Jefferies/mirror.co.uk