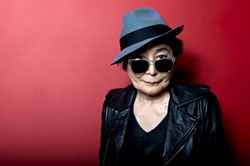 Yoko Ono is to open next year's Manchester International Festival with a message of peace to the world, it has been announced.
The artist, singer and peace activist's work Bells for Peace will feature around 8,000 members of the public forming an orchestra of bells in Manchester's Cathedral Gardens to welcome visitors to the biennial festival.
It follows the success of What Is the City but the People? which gave the people of Manchester a chance to present a self-portrait of themselves and the place where they live.
Idris Elba and Skepta have also been announced as part of next year's festival.
Yoko Ono said: "The beauty of this piece will break the sky and more. One of the reasons this is very different is the fact that all of us will be making the sound together. More than ever, we must come together to heal each other and the world. Peace is power."
The project comes following Ono's newly recorded version of peace anthem Imagine, written by her husband John Lennon and inspired by Ono's poetry, releeased earlier this month on her new album, Warzone.
Source: Dean Kirby/inews.co.uk