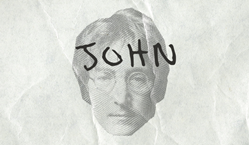 The handwriting of Kurt Cobain, David Bowie, John Lennon and other rock stars has been turned into fonts.
The Songwriters Font project includes typefaces developed from "original handwritten letters and notes" by Cobain, Bowie and Lennon, as well as Leonard Cohen and Serge Gainsbourg.
"Songwriting is about inspiration," say creators Julien Sens and Nicolas Damiens. "Write songs as the ones who inspired you before. The Songwriters fonts have been created to give musicians inspiration."
"Writing lyrics with the handwriting of influential songwriters helps imagination to develop. Being in the mood of Bowie, Cobain, Cohen, Gainsbourg, Lennon, might be purely imaginative… but that's precisely the point."
See some examples of the fonts beneath.
Source: